Press Release & Industry News
ProPak Myanmar 2018 Present Latest Technologies for Processing and Packaging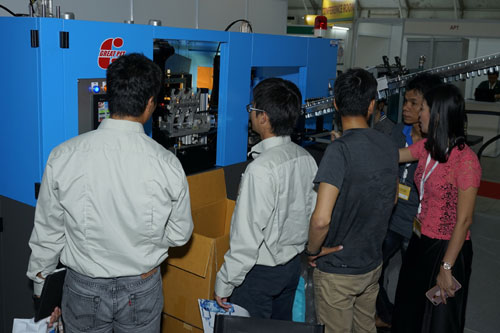 The 5th edition offers more opportunities for businesses to connect with industry leaders to find powerful advanced technology and new automation solutions
ProPak Myanmar 2018, once again, returns for its 5th successful installment as the leading trade show of its kind for country's rapidly expanding processing and packaging industries. The leading and largest dedicated international processing and packaging trade event open's today, Thursday 13th and running until Saturday 15th September at its new bigger venue, Yangon Convention Centre (YCC), Yangon.
ProPak Myanmar reaffirming its reputation as the largest, leading and most international industry trade event for Myanmar's developing Food, Drink & Pharmaceutical Processing & Packaging Industries. The event serves as an important platform that enables technology transfers across multiple industries, from food and beverage to cosmetics, pharmaceutical, chemical and more.
Across 6,000 square meters of the new exhibition space, gathering 179 participating companies from 23 countries and 5 pavilions from China, Indonesia, Singapore, Taiwan and Thailand. The line-up for exhibitors includes world-renowed companies including; AGR, Alliance Packaging, Asia Drug, Autopack, AZO, Benison, BS1, Buhler Group, Calvatis, CKD, FNB, Haas Food Equipment, Interink, Interroll, Ishida, John Bean Technologies, Master PET, Melchers Techexport, Motan, Mova Color, Multivac, Patkol, PTTGC, Rieckermann, Salee Colour, SMC, Solution Pack, SP Petpack, Taiwan Honchuan, Tech Long, Toyo INK, Toyox, Vega Instruments, Windmoeller&Hoelscher Asia Pacific, Wolf Packaging WTCT and many more.
"Leading global suppliers will offer a look at the potential of automations and the difference they can make in the future of the processing and packaging. It will answer questions and provide solutions for manufacturers and businesses looking to improve their operations and move toward the goals associated in industries adopting technology to boost production efficiency."said Mr. Fraser Hawkes, General Manager, UBM Myanmar
This year ProPak Myanmar 2018incorporates DrinkTechMyanmar 2018 returns giving a strong focus towards the development of Myanmar's exciting and rapidly expanding alcoholic, soft drinks and dairy beverage markets. Ingredients Myanmar 2018 will connect ingredient manufacturers and suppliers to one of Asia's most promising new markets. Myanmar's food and drink manufacturing industry is underdeveloped and presents many genuine business opportunities as it expands and modernises to meet growing domestic and export demands. And PlasPakMyanmar 2018 will showcase the plastic packaging industry and connect Myanmar buyers to international suppliers.
In addition ProPak Myanmar 2018 features leading industry conference organised by the Food Science & Technology Association of Myanmar (FoSTAM) - Food Science and Technology Association of Myanmar (FoSTAM) Conference theme "Developing the Food Industry Supply Chain of Myanmar". The conference will present and discuss latest industry developments, trends and techniques in Supply chain and innovation for the food industry. The conference will provide opportunities to meet, learn, share and network among both government and private sector, and local and international speakers and delegates taking place 13th to 14th September 2018.
"ProPak Myanmar 2018 is a must for anyone involved in the processing and packaging industries interested in learning more about processing & packaging automation and solutions. This event also provides a platform for expanding professional networks and obtaining the latest industry information from a wealth of exciting conferences."add Mr. Hawkes
The event is strongly supported by many leading industry association including; Myanmar Industries Association (MIA), Myanmar Food Processors and Exporters Association (MFPEA), Food Science and Technology Association of Myanmar (FoSTAM), Myanmar Retailers Association (MMRA) and Delegation of German Industry and Commerce in Myanmar.
ProPak Myanmar 2018, DrinkTech Myanmar 2018, Ingredient Myanmar 2018 and PlasPak Myanmar 2018 are "MUST-VISIT" events for the industry.
ProPak Myanmar 2018
Date: 13th to 15th September 2018
Opening Hours: 9am — 5pm
Venue: Yangon Convention Centre (YCC), Yangon
Website: www.propakmyanmar.com
Facebook: www.facebook.com/propakmyanmar
Notes to Editor:
For more information, please contact
Wantita Porntanawong (Bow)
Tel: +662 036 0500 ext. 728, Email: [email protected]
Ya Mone Oo
Tel: +951 378975 Ext. 103, Email: [email protected]