Press Release & Industry News
ProPak Myanmar 2016 – Moving Forward with Industry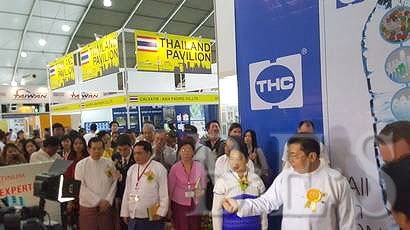 ProPak Myanmar 2016 took place for its successful 3rd edition, 24th to 26th September at Myanmar Event Park (MEP), Yangon, and once again reaffirmed its leading position as Myanmar's largest and most international food, drink and pharmaceutical processing & packaging technology trade exhibition in Myanmar for Myanmar.
ProPak Myanmar 2016 presented 233 exhibitors from 24 countries, 5 international pavilions from China, Italy, Singapore, Taiwan and Thailand and 4,799 trade visitors from 25 countries attended across its 3 show days. ProPak Myanmar 2016 also included the National Conference on Food Industry Development 2016 - Education of Food Science and Technology to Upgrade Small and Medium Food Enterprises in Myanmar organised by the Food Science & Technology Association of Myanmar (FoSTAM).
ProPak Myanmar truly is the "Must-Attend" industry event in Myanmar for Myanmar with the best quality and variety of exhibitors, technology, products and visitors.
"ProPak Myanmar 2016 was buzzing with activity across its 3 show days from start to finish. The show received excellent feedback and exhibitors did brisk business onsite with many machines sold and orders places onsite. It is clear to see that the industry is moving forward, expanding and developing and demand for new technology, machines and solutions are in high demand." SaidMr. Fraser Hawkes, General Manager, Myanmar Trade Fair Management
ProPak Myanmar 2016 is strongly supported by many leading industry association including; Myanmar Industries Association (MIA), Myanmar Food Processors and Exporters Association (MFPEA), Food Science and Technology Association of Myanmar (FoSTAM) and Myanmar Retailers Association (MMRA).
ProPak Myanmar 2017 will be organised by Myanmar Trade Fair Management (MTFM), An Allworld Exhibitions Member. Allworld Exhibitions is renowned in Asia for organising the best and largest international industry events including ProPak Asia in Thailand, ProPak China in China, and ProPak Vietnam in Vietnam.
ProPak Myanmar2017, the 4th edition will return 21st to 23rd September 2017 at Myanmar Event Park (MEP), Yangon. Demand for space is high and many exhibitors have already confirmed to return, and many new enquiries were received onsite during the show. Please contact the organisers to book your stand or request more information on this new and exciting market.
For Sales Enquiries please contact your nearest office:
Bangkok Yangon
Ms. Arayabhorn Sukpornchaikul (Apple) Mr. Fraser Hawkes
Bangkok Exhibition Services (BES) Ltd Allworld Exhibitions
Tel. +66 (0)2615 1255 Tel. +95 (0)1512 887 Ext 503
Email: [email protected] Email: [email protected]
Singapore London
Ms. Carolyn Lee Mr. Marek Szandrowski
International Expo Management (IEM) Pte Ltd Overseas Exhibition Services (OES) Ltd
Tel. +65 6223 6777 Tel. +44 (0)20 7840 2108
Email: [email protected] Email: [email protected]
For Press Enquiries please contact:
Ms. Wantita Porntanawong (Bow), PR Executive, Bangkok Exhibition Services (BES) Ltd,
Tel. +662 615-1255 ext. 123, email [email protected]
For more information please visit the show websites:
Website: www.propakmyanmar.comFacebook: www.facebook.com/propakmyanmar